'Be passionate about your job and your company. If you don't like what you're doing, or believe in your business, you should quit. Life really is too short to be in the wrong place.'​
Ad Nederlof,
entrepreneur, executive director and salesman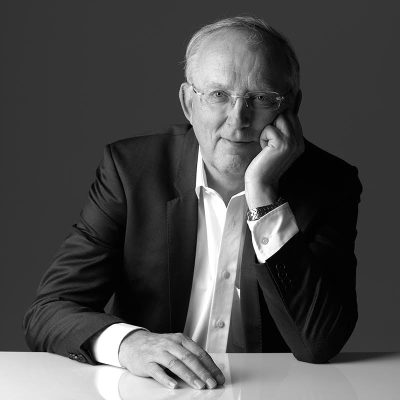 The career of Ad Nederlof embodies the classic story 'from newspaper boy to captain of industry'. With little education and some working experience in a variety of side jobs, he started in 1968 as an administrative assistant at Dutch airline KLM. When it became clear that his heart was not exactly in 'administration', Ad switched to a position at carpet store Holland Haag, as a marketing assistant. There he discovered the sales profession – and a lifelong passion was born.
Salesman par excellence...
His first sales job followed in 1970, at Kramers in Rotterdam, where he sold addressing machines, punching cards and later also copying machines. Ad turned out to be a natural with a hit rate that far exceeded his targets from the start. Three years later, he joined Singer Business Machines as a sales specialist. There he scored his first million-dollar order and soon others followed. His success was noticed by ICL, that contracted him as an account manager in 1976.
...or entrepreneur after all?
After three successful years, the entrepreneurial blood crept where it could not go and Ad decided to start his own business. Computerm imported cash registers and cash register systems from the United States and Japan. Fully independent, he now learned to build a business from scratch and discovered the advantages, but also the pitfalls of entrepreneurship. He soon found out that he was not ready for the challenge at this point, so when ICL offered to take over Computerm, the purchase was quickly closed.
Back at ICL, he quickly moved up to National Sales Director. Over the years, the realization grew that the future of ICT might lie less in hardware than in software. In 1988, at the age of 42, he switched to Volmac, with 2,000 employees the largest and most successful IT company in the Netherlands at the time, where he was appointed Chief Commercial Officer. He immediately faced an enormous challenge. In October 1987, the stock markets had collapsed and as the corporate sector cautiously recovered, competition quickly increased. Volmac had to develop into a more market-oriented company. Ad reorganized the sales organization and focused on new business and relationship management, resulting in strong revenue growth.
'Excuses are the limits that determine where you put the bar. You always have to ask yourself whether you are doing your utmost to achieve the desired result. Apologies build a limit for yourself - and then it comes down to the question of accepting that limit or saying: no way'
At Volmac, Ad got to know Oracle's database systems and was impressed by the company's strong, sales-driven culture. It proved love from both sides and in 1991 Ad became Managing Director of Oracle Netherlands. Where the step towards internationalization at Volmac proved difficult to take, there were plenty of opportunities at Oracle. His first international position was Vice President Northern Europe, responsible for Belgium, the Netherlands, Luxembourg, Finland, Denmark, Sweden and Norway. That was the start of an unprecedented successful period, in which the organization grew from 700 to 1,600 employees and tripled turnover. In 1995 he was presented with the Oracle MVP Award (Most Valuable Player).
For Ad this was a signal that he was ready for an even more senior role in an international setting. In 1997, he joined Richter Systems, a Canadian supplier of wholesale and retail supply chain management software, where he was initially asked to set up the European Division. The build-up was so successful that in the spring of 1998 Ad was asked to run the company from the United States as President & COO.
At that point he was noticed by contact center software manufacturer Genesys, who offered him a job as Senior Vice-President Europe and Asia. There he would soon close the biggest deal of his career. Shortly after taking office, Genesys was put up for sale. The market had moved to a boiling point, which opened excellent opportunities. Siemens and Alcatel fought for the prize, with the latter pulling the longest straw. Alcatel made a bid of $ 1.5 billion and the mega takeover was closed in January 2000. Ad was appointed President and CEO.
Entrepreneurial ambitions (again)
In the seven years that Ad worked for Genesys, turnover grew by more than 250%. That period also marks the transition from manager to entrepreneur. Ad had always been a creditable manager, but at Genesys he discovered the talent to run a company as an entrepreneur. That realization grew into the ambition to set up, run and lead his own company once. After having been promoted to Executive Chairman, he took the plunge and resigned. Upon his departure, Genesys had become the absolute market leader in call center software worldwide. With a market share of over 20% and in some countries, including China, even more than 50%.
In his journey from sales associate to CEO, Ad had sufficiently proven that he could forward and expand both small and large organizations. One challenge that had haunted him over the years was still open: would he manage it at his own expense and risk? Starting his own company – on his own terms? Once back in the Netherlands, this matter was put to the test. He filed the name VANAD and went looking for an opportunity to get off to a flying start. One thing he was sure of: he was not going to do this alone. He commissioned his eldest son Arthur and his friend Arnoud Munneke for the day-to-day management. The story of VANAD started in the summer of 2005 with the takeover of an ailing call center in IJsselstein. The rest is history.
'Immerse yourself in your prospect and understand their difficulties and challenges. Try to find out how the decision-making process works and which criteria are really important to them. The better your solution responds to this, the more promising your offer.'
Tried and tested in customer service, Ad was convinced he could make a difference there. At the turn of the century, customer focus was often mainly professed by mouth. His vision was that warm, personal contact between a company and its customers would prove indispensable for business success in the coming years. Call center employees ("agents") had to make conversation rather than merely finishing a script. With steadily declining face-to-face contact, the agent was rapidly becoming the voice and face of an organization. This approach was absolutely unique in call center country. Just like the philosophy of 'happy people', which stipulates that people who enjoy their job are more pleasant, less often ill and simply perform better. And not unimportantly: Happy People make for Happy Clients!
At Genesys, Ad had gained the best possible insights into what main stream call center software had to offer. Therefore, he also knew its limitations. If he really wanted to put his ideas into practice, he would have to have his own software package. He contracted a number of specialists and put them to work. In 2007 they returned with the first version of VANAD Aloha. The company's own call center system which could turn their business philosophy into reality. And cornerstone for VANAD's ambition to becoming a leading provider of cloud-based contact center solutions. Which, by the way, also made working from home as easy as ABC.
After some unavoidable teething problems, the flywheel got going. The new approach caught on and VANAD grew rapidly. Even more than convincing new customers, finding good staff turned out to be quite a task. Because the approach was unique, experienced call center employees also had to be retrained. Appropriate exercise material was not available. So VANAD started its own Academy, where employees were trained from head to heart to have valuable conversations with consumers, with appreciation for the client as a commitment.
'Don't waste time flogging a dead horse. Ditch the 'eternal prospect', where you drink coffee and talk about football pleasantly enough, but never get any order. They only cost your organization time and money. '
With the spectacular growth, the need arose for a significantly greater location, which Ad would rather buy than rent. Enovation, the company that was founded by Ad's cousins Arthur and Fred Nederlof and where his brother Jean held sway was located at Rivium, a business park in Capelle aan den Ijssel, near Rotterdam. There was office space for sale and sufficient room for expansion. After the first building, a second and a third followed and so the VANAD Campus slowly took shape. In 2020, Unistone, the real estate company of Ad and his son Arthur, owns some 20,000 square meters office space in eleven properties on Rivium.
The Netherlands soon proved too small for the ambition of the fast-growing company. As early as 2007, Philips Business Communications Systems in Suzhou, which produced telephone exchanges and was active in the call center business, was acquired. This was followed by joint ventures and acquisitions in Germany, Belgium, Scandinavia and England. VANAD also opened a branch in the country where Ad had celebrated great business successes, the United States. Part of the international expansion has now been reversed. For example, VANAD has sold the Chinese activities in favor of growth in European countries. But a strong international focus remains. The Netherlands are simply too small for the company's ambitions.
Since 2005, VANAD has grown enormously and is active in many more fields. You can say that Ad passed his own test. From a faltering call center with 25 people, the company has grown into an established, internationally oriented company that operates at the intersection of ICT and communication and employs over 1,500 people. The company has written black figures from the start and, as befits a true family business, is focused on continuity. Ad's role has changed over the years from pioneer to visionary, sounding board and strategic advisor, but he can still be found on the VANAD Campus every week. Approachable for everyone – and always with a keen eye for what can be improved.
'The ultimate goal for the VANAD Group of Companies is to grow as a whole and each day to be more successful than the day before. This is accomplished by our employees. 'Happy people', who adhere to our vision and give their customers what they have agreed upon. Every day, with all their heart and soul.'​
Ad (Arie Pieter) Nederlof was born in Voorburg, The Netherlands on 7 December 1946. He lives in Belgium, is married and has three sons and three daughters.
"Customer Obsession: Your Roadmap to Profitable CRM", with Dr. Jon Anton, director of benchmark research at Purdue University's Center for Customer-Driven Quality, April 2002
"Stop Customer Frustration", Genesys, 2004
"Adtitude", biography, self-published, June 2015
"Happy People, Happy Clients", 10 years of VANAD Group, self-published, July 2015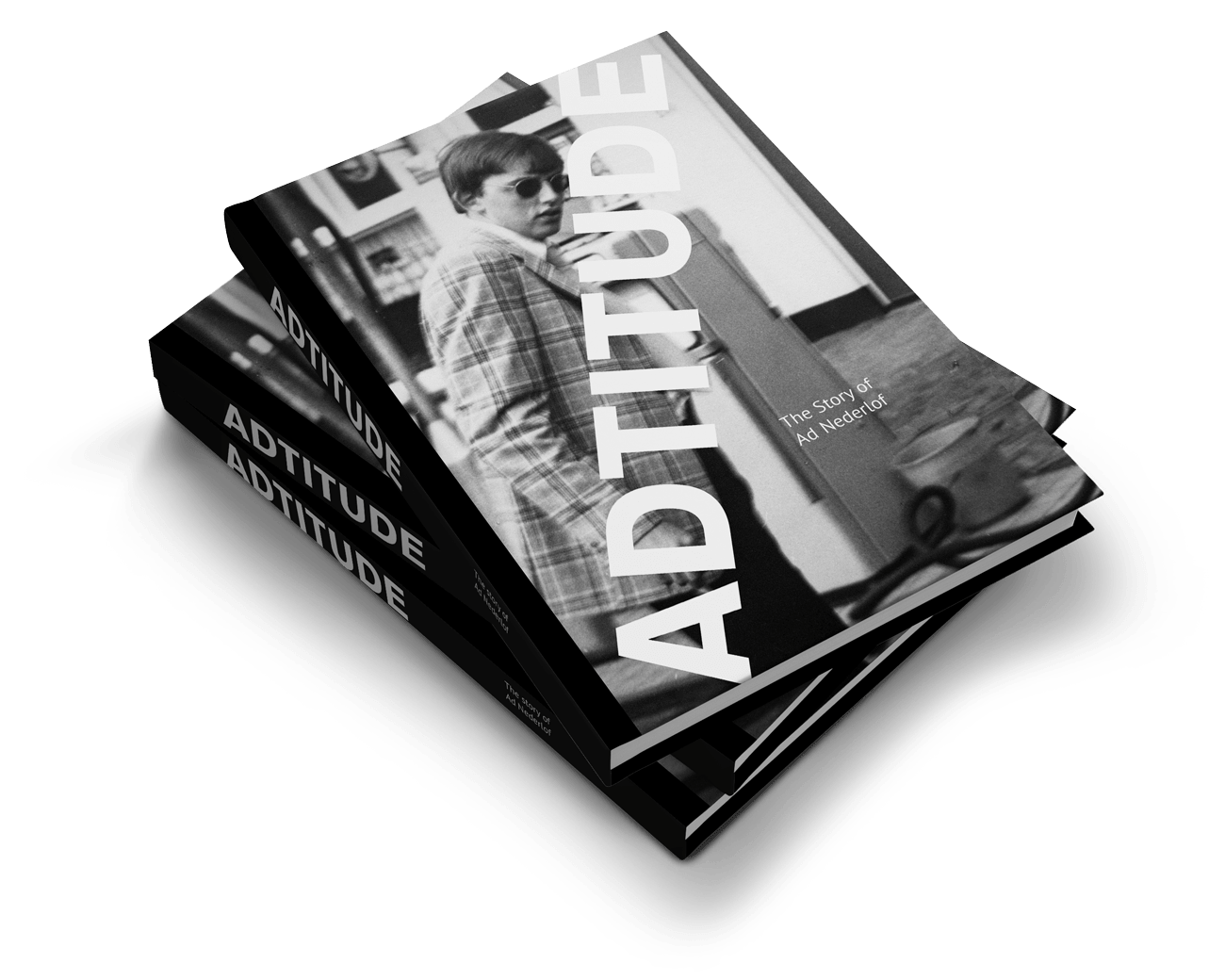 How do you start a company and put it on the international map successfully and in record time? A burning question for many aspiring entrepreneurs, and Ad Nederlof has found the answer from over 50 years of experience on the work floor and in boardrooms of renowned international IT-companies. Order the book here, read the story of his life and learnings and get inspired by his 'Adtitude'.
'The home team always has an advantage in sports and wins 20-25% more often than the visitors. Make sure you are on familiar territory when speaking to a prospect. Invite them over to you.'
'The goodwill factor always makes a difference. Especially when offers are comparable.
Don't be an anonymous provider, but give yourself and your organization a sympathetic face.'
"Underpromise and Overdeliver, that's the secret to any good offer. Only promise what you are 100% sure of delivering. Whatever you bring extra will come as a happy surprise."